St. Matia Mulumba Parish, Irundu, Uganda
Irundu Update, February 2019
The Worth Irundu Friendship Committee would like to let everyone know about our future engagement with Irundu.
"During Mgr Stephen Mudoola's visit last year we discussed the implications for our friendship of his transfer to a new parish in Jinja Diocese. The Worth Irundu Friendship Committee (WIF) then met to consider the situation.
Since we have provided excellent facilities for Irundu which are now complete, we believe we should broaden our support for projects in Uganda. One consequence of this decision is that we will run down our support for the Irundu Health Centre over the next two years, giving the Health Centre time to find other sources of funds. As Fr Stephen is no longer in Irundu we have appointed him as our representative in Jinja Diocese, and commissioned him to administer the funds we devote to the Health Centre, thus ensuring that these funds are properly used.
We ask the Parish to agree that surplus funds held in our Irundu account can now be used for other projects in Uganda. Our first project will be to support the charity 'Running Well' founded by Worth old boy, Julian Gabriel. Julian has already raised money for water wells in Irundu, and is now planning to provide water wells in Itanda, Fr Stephen's new parish. Julian will be giving a talk about his work after Easter. If you would like to know more about these decisions please contact Fr Paul."
History of Our Friendship with Irundu
Our friendship with Irundu began in 2005 when the parish expressed a desire to understand and learn from life in a developing country, and also to find ways in which to help a community. In 2007 we formed a partnership with the Parish of St Matia Malumba, Irundu, a parish of 2000 square miles and 36000 parishioners in the east of Uganda in Jinja Diocese.
Jinja is on the northern shore of Lake Victoria and the source of the Blue Nile. Fifty miles north of Jinja on the shores of Lake Kyoga lies our friendship parish. The tarmac road from Jinja runs out some way before the parish boundary, and there isn't a single tarmac road within the parish.
The Parish Priest is Fr. Stephen Mudoola. With such a huge area to cover Irundu has developed in a typically African way – with a fully involved laity running most of the parish activities.There are 6 major centres and 36 sub-centres where Sunday worship is offered without a priest; in addition there are over 100 groups meeting for prayer, scripture study and economic cooperation.
Members of the Worth-Irundu Friendship (WIF) Committee are: Fr Paul, Paul Ambridge, Joe O'Dwyer, Kir Bennett Horner and Robin Williamson (Chair). The Committee may want to include others or to co-opt members
Father Paul visited Irundu in April 2016. He writes: My abiding impression of Irundu is one of immense warmth – both physical, over 30 C, but most of all human. Continue reading
The Friendship has made significant contributions to the health, educational and economic needs of the parish. These have included building a health centre and accommodation for visitors, developing vocational training courses and providing school benches and desks.
Gaining a qualification is really important for young people in Irundu. In 2016, together with Worth School, we supported a project to build a workshop for training car mechanics. Once the workshop was built the parish raised enough money to fill the empty workshop with equipment, from welding goggles to old petrol and diesel engines.
In March 2017 we learned that the people of Irundu were suffering from hunger following a prolonged drought. When the drought ended and there was an urgent need to plant seeds to ensure food for the future. We responded swiftly and raised £6,237.00 for seeds that went to the whole community, not just the Irundu parishioners, Seeds were planted and the rains came and we now know that a good crop has been a huge benefit for Irundu. Following her visit in May, Cynthia Haynes writes about the seed distribution.
The St Matia Malumba Health Centre, largely built by donors from Worth Abbey parish, is perhaps our most vital project. The Diocesan-owned health facility is one of only six Catholic health centres in the diocese with in-patient facilities, and there are ten qualified medical staff working full time in the Centre. Continue Reading
We are appealing again for your support for this critically important service to the whole Irundu community. Please pick up an Appeal Form in the Narthex or print a copy here and return it to the Parish Office.
Report on Cynthia's recent visit to Irundu, 5th – 17th February 2018
Fr Stephen sends his greetings to everyone at Worth. He is planning to apply for a visa to come to visit when the weather is a bit warmer but not as warm as it was in Irundu this time – 42C – even the locals were complaining! Continue Reading
The Choral Society Concert on the 4th March 2018 raised the amazing amount of £1100. Many thanks to Michael Oakley for offering both concerts this academic year for Irundu.
Ugandan Martyrs Mass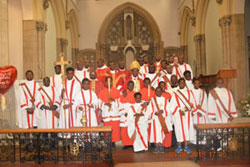 On Sunday 9th June 2018, Paul and Ali Ambridge attended a Mass in London commemorating the Ugandan Martyrs who died on the 8th June 1886, having been invited by the Ugandan choir who come to sing at our Mass for Irundu every year. It was a colourful affair Continue reading